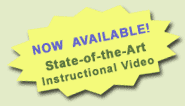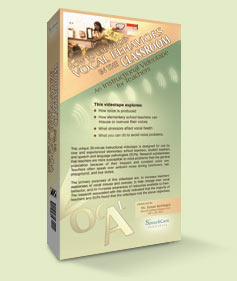 Click here for large view of VHS box
SUMMARY
This unique 20-minute instructional videotape is designed for use by new and experienced elementary school teachers, student teachers and speech and language pathologists (SLPs). Research substantiates that teachers are more susceptible to voice problems than the general population because of their frequent and constant voice use. Teachers often speak over ambient noise during lunchroom, hall, playground, and bus duties.
The primary purposes of this videotape are: to increase teachers' awareness of vocal misuse and overuse, to help change their vocal behavior, and to increase awareness of resources available to them. The research associated with this study indicated that the majority of teachers and SLPs found that the videotape met the above objectives.

This Videotape Explores:

How voice is produced.
How elementary school teachers can misuse or overuse their voice.
What stressors affect vocal health.
What you can do to avoid voice problems.
Screen Shots




Click the Video icon below to download a 2 min. mp4 preview.

Preview 12.5 MB
You can use PayPal and order right now from our site.

Satisfied Customers
"What a great way to start off the new school year-- by showing this videotape to teachers to prevent possible voice problems."

Nancy Ribbler, M.A., CCC-SLP
Speech & Language Pathologist
Broward County School District
Ft. Lauderdale, Florida
"Up to date, professionally done and a must buy if you are working in the field of education and are concerned about vocal health."

Chris Sapienza, Ph.D.
Department of Communicaton Sciences and Disorders
Professor and Chair
University of Florida
Gainesville, Florida
"At last there is this valuable tool that has the ability of reaching thousands of teachers and student teachers with existing or potential vocal problems."

Simone Brenner, Ed.D.
Doctor of Education
Educational Resource Center
Boca Raton, Florida
"This videotape provided me with several techniques and information that I implement during the school day."

Danette McDonald
Fourth Grade Teacher
Broward County School District
Ft Lauderdale, Florida

Disclaimers and Policies for SpeechCare Publishing

© 2004 SpeechCare Publishing. All Rights Reserved.